Welcome Guitar Lover!
Learn about FaChords Guitar and how it will help you advance your guitar skills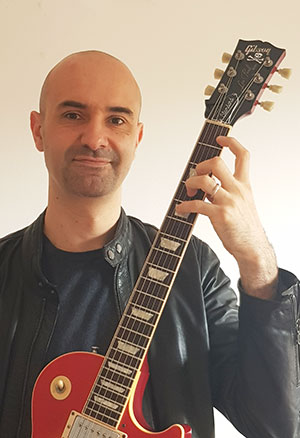 Hi! Welcome here. My name is Gianca, I live in Italy, I'm a software engineer by day, guitar teacher/player by night .
Some years ago I built this site as a study support for my guitar students, and now it's available, for free, to the guitar lovers worldwide community.
Back in 2012, I started FaChords Guitar. Its mission is to help guitar players improve their skills with step-by-step tutorials, ebooks to download and interactive learning software ; today has reached over 30 million views worldwide .
This is my little contribution to the greater good. I always liked the following advice:
"Share your knowledge. It's a way to achieve immortality!" Dalai Lama
Here's a quick shoot, without editing, just to show off my awesome Gibson Les Paul :-)
We have more than 25.000 happy subscribers, I hope you'll be the next. Everything on this website is free, apart from some complete books that help me support server and website costs (Chords Domination, 52 Chord Progressions and Scales Over Chords).
What Users Say










First Time Here? Be Sure To Check These Sections (Don't Worry, It's Free!)
If you did not requested it yet, be sure to request your free access to the download area, to get scales and chords ebooks.

Here below you find some nice words written by users of this website; I'm really proud of that and I thank you all immensely for the nice words and support:

Duane
Fantastic job on this guitar teaching web site...
Gianca, fantastic job on this guitar teaching web site. It is clear that you have put an immense amount of time and thought into this great teaching resource, and the site speaks for itself. I do not think a better guitar site for beginners exists on the web. Thank you so much for the effort!

Jason
FaChords is an awesome site...
FaChords is an awesome site. Gianca provides a fabulous suite of tools for learning the guitar and without a doubt, they have helped me to become a better musician. He is very generous and offers these educational tools for free, i would recommend it to anyone learning to play guitar.

Randy Sanders
An excellent musical learning website...
FAChords is an excellent musical learning website, it has so much to offer. The guitar trainers are excellent. online Interactive scale generators, chords, PDF downloads. There is a LOT to Learn at FAChords. There is a Ton of good, useful musical information.
Why I've Started FaChords Guitar
I started my journey in the land of music at 9, playing the slide trombone (my teacher decided that it was the perfect instrument for me, because of my long arms).
After some years of studying solfege and big bands songs, I realized that I wanted an instrument able to make more noise , so the electric guitar was a natural choice.
Since then, I've accumulated tons of reference material and lessons worth to be shared. During these past years, I've even developed specific software to help my students learn chords, scales, fretboard geometry, practicing ear training and more.
So I've put together this site for my students, and then, I've decided to made it available, for free, to anyone looking to get better at guitar. Why?
Because helping all the folks in the world that love like me guitar feels so good!
Greetings From Italy, This Is My City:
In the picture below you can see the city where I live: Bergamo, Italy .
My house is somewhere under the clouds. Have you ever been to Italy? You'll be welcome! (you don't want to miss the Bergamo Jazz Festival if you ever get up here)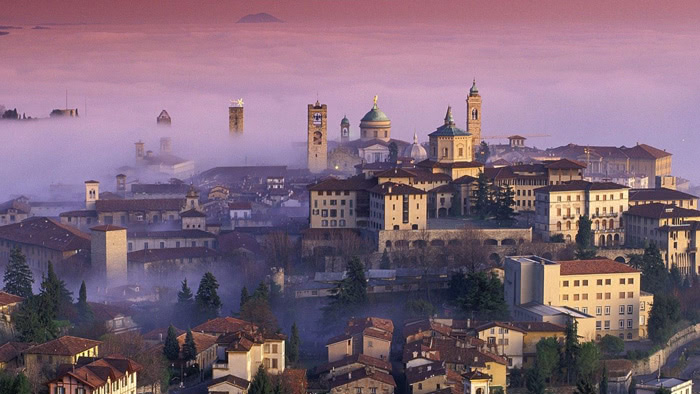 How This Website is Built (for software lovers)
If you are into software development and the like, maybe you'd like to learn more about the technologies under the hood of FaChords. I built this site and the guitar learning tools with the help of:
For business/research/coding related requests, please visit my profile on Linkedin and Google Scholar .
In case You Are Looking For The "Write For Us" Section
I often receive requests for guest posts and editorials to be published on FaChords Guitar.
Usually, I decline these offers, because most of them are just marketing efforts to get a backlink or drive affiliate sales.
However, if you are an author with a genuine passion for guitar (and not a marketing agency), and want to write for FaChords Guitar, please introduce yourself and tell me your idea.
I'll be glad to read your messages.
That's All, Enjoy The Site!
Please say hello and tell me about you, your targets as a guitar player, your main difficulties in learning the instrument. I love to get in touch with guitar lovers from around the world.
If it's your first visit, I suggest to jump to the Start Page, on which you'll find many useful resources to help improve your guitar skills!